Sophrosyne (Mind, Body & Soul) Vegan Bath M*lk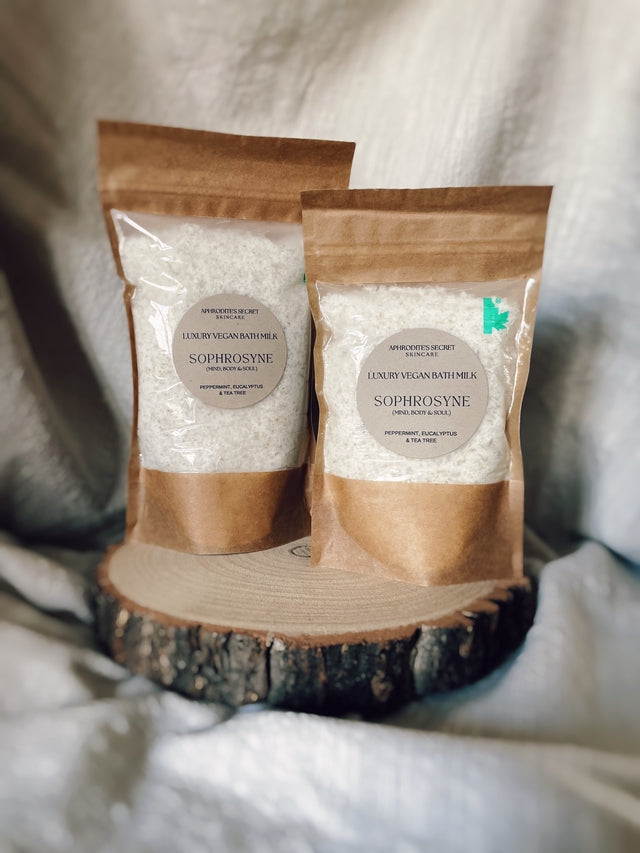 Sophrosyne (Mind, Body & Soul) Vegan Bath M*lk
'Sophrosyne' in greek means Mind, Body and Soul-
Awaken and refresh your mind and body with our Sophrosyne Luxury Vegan Bath M*lk. Packed with skin loving peppermint, eucalyptus and tea tree Essential Oils, Epsom Salt, Dead Sea Salt, Vegan Coconut Milk powder & Gluten Free Oatmeal.
Sprinkle handful in the running water and then soak in the bath to allow all nourishing ingredients sinks into your skin & work their magic!
Not only do their natural aromas uplift low moods and calm anxiety, they promote skin health too! It will help to remove dead skin cells and ease acne, eczema and other various skin issue!
To use, simply add a few handful to warm water and let the bath milk dissolve completely. Then, sink into the tub and let the luxurious & soothing scent transport you to a state of pure.